Monastery of Megisti Lavra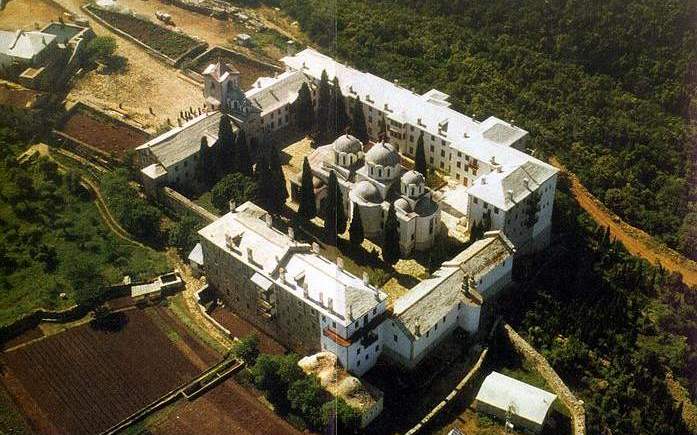 Megisti Lavra is the most ancient, first in order and biggest monastery of all. It was founded in 963 by the monk Athanasios Athonitis with the financial support of the emperors Nikiphoros Phokas and Ioannis Tsimiskis. The monastery is dedicated to its founder, Agios Athanasios Athonitis and celebrates on the 5th/18th of July (according to the old style calendar of Mount Athos).
Megisti Lavra is a big complex of buildings, built on a picturesque cliff on the southeastern edge of Athos. The mountain seems to protect and guard the monastery from the west, whereas to the east it looks to the endless Aegean Sea . Among the group of buildings of the monastery one can easily spot out the superb Tower of Tsimiskis.
In the 11 th century, Lavra (which means busy monastery) hosted 700 monks.
Its "catholicon" (10 th century) is situated in the centre of the great courtyard and it is a temple with four pillars, double narthex and two chapels. The monastery was built by its founder, Athanasios, who dedicated it to the Evangelism of Virgin Mary.
The building was restored and repaired a lot of times.
The wall paintings of the temple (1535) are unique, splendid works of Theophanis.
In particular, the wall paintings of the Refectory are really impressive, made by artists of the School of Crete (16 th century). Its "phiale" is the biggest in Mount Athos.
In the chapel dedicated to the Agii Tessarakonta Martyres (Fourty Saints Martyrs) the visitor can see the tomb of Agios Athanasios Athonitis. In the chapel dedicated to Virgin Mary there are magnificent portable icons of Jesus Christ and Virgin.
The library of Megisti Lavra icludes a great variety of books, such as 2.046 handwritten codes with unique scripts, micrographs and 30.000 books. Moreover, in the sacristy are the sack and crown of the emperor Nikiphoros Phokas, the cross and the stick of Agios Athanasios, pieces of the Holy Wood, relics, handmade crosses, gold-embroidered vestments, holy vessels, magnificent portable icons and other items of the national heirloom. The "skites" of Agia Anna, Kapsokalyves and Prodromos and other monastic settlements are subject to Megisti Lavra. The Skiti of Agia Anna is the oldest and biggest of Mount Athos.